The Desktop DVI KVM Switches implements the DVI technology to eliminate the undesired distortion from conventional analog/digital video conversion. The resultant imaging is digitally crisp and clear so that you will come to appreciate and love it while this DVI KVM Switch series supports you with a satisfying display true to life and work. This KVM switch series offers either USB or PS/2 connectivity and audio/mic support are available too. USB 2.0 device hub ports for high-speed USB sharing are optionally available on the more advanced models featuring also our True Transparent USB (TTU) Emulation* technology. Independent switching of computer, audio/mic and USB hub ports is a great feature to make your daily works and entertainment as smooth as you can imagine.
* True Transparent USB (TTU) Emulation
technology is our latest keyboard and mouse emulation technology embodied in an ASIC chip that enables the KVM switch to fully detect, copy, save and emulate therein an exact identity of any advanced keyboard and mouse. Its advantage is that users can enjoy 100% of all its functional features that are only available by 100% driver support provided by the state-of-the-art TTU technology!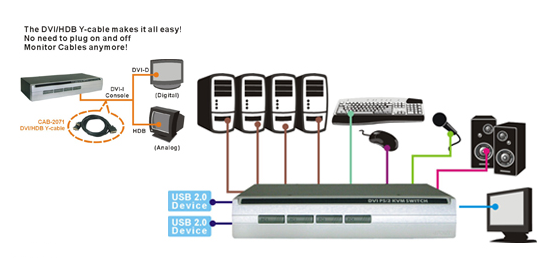 At a Glance
Model No.
AD-202A
AD-204A
UDV-002E
UDV-004E
Ports
2
4
2
4
Interface
Keyboard, Mouse
USB
USB
PS/2
PS/2
Video
DVI
DVI
DVI
DVI
Audio/Mic
Yes
Yes
 
 
Digital Video Resolution
1920x1200
1920x1200
1920x1200
1920x1200
Analog Video Reesolution
2048x1536
2048x1536
2048x1536
2048x1536
USB Hub
x2
x2
 
 
TTU
Yes
Yes