The Desktop VGA USB KVM Switches series is one of our recent efforts to implement the latest True Transparent USB (TTU) Emulation* technology into the desktop VGA USB KVM Switch for a totally new switching experience. With it, your advanced and surely expensive keyboard and mouse will be decently treated like they should with 100% driver support accompanied with lightning switching speed! And you don't have to worry about the nasty problems like blank video or resolution misfit after switching back, since our All-Time DDC Emulation** technology resolves these issues, too. These feats are done nicely without your knowing it. You just use it to your full satisfaction no matter you are working, gaming or doing any special computer operations!
* True Transparent USB (TTU) Emulation technology is our latest keyboard and mouse emulation technology embodied in an ASIC chip that enables the KVM switch to fully detect, copy, save and emulate therein an exact identity of any advanced keyboard and mouse. Its advantage is that users can enjoy 100% of all its functional features that are only available by 100% driver support provided by the state-of-the-art TTU technology!
** All-Time DDC Emulation technology is an emulation technology that enables the KVM to emulate the presence of a specific monitor with its proper DDC data set on a KVM port, not only when that KVM port is switched on as the active port, but also when it is switched off, so that, the connected computer will be fooled into believing there is always a monitor present at all time, hence no interruption to the DDC signaling communication.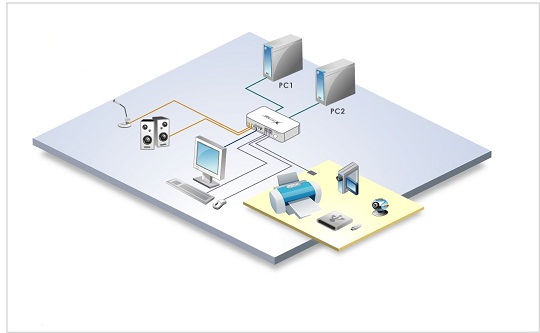 At a Glance
Model No.
AH-CP02A
AH-202A
AH-204A
Ports
2
2
4
Interface
Keyboard, Mouse
USB
USB
USB
Video
VGA
VGA
VGA
Audio/Mic
Yes
Yes
Yes
Resolution
2048x1536
2048x1536
2048x1536
USB Hub
x2
x2
x2
TTU
Yes
Yes
Yes